It's now been over two weeks since the shooting that took place on Sunday, August 9th at 12:20 am on the 3300 block of Dubois St SE Twenty-one people were shot and one 17-year-old young man, Christopher Brown a proud father of a one-year-old was killed. Ask yourself if anyone from DC Gov't or even news outlets have updated you on the four shooters (or whom I've called killers because all of were prepared to shoot to kill). Nope, nothing from literally everyone. Imagine if the major networks were standing out on Dubois St as if it was a school shooting, Think there would be this silence? if that doesn't make you pissed the following might.

Two Weeks Later and This is What We Know…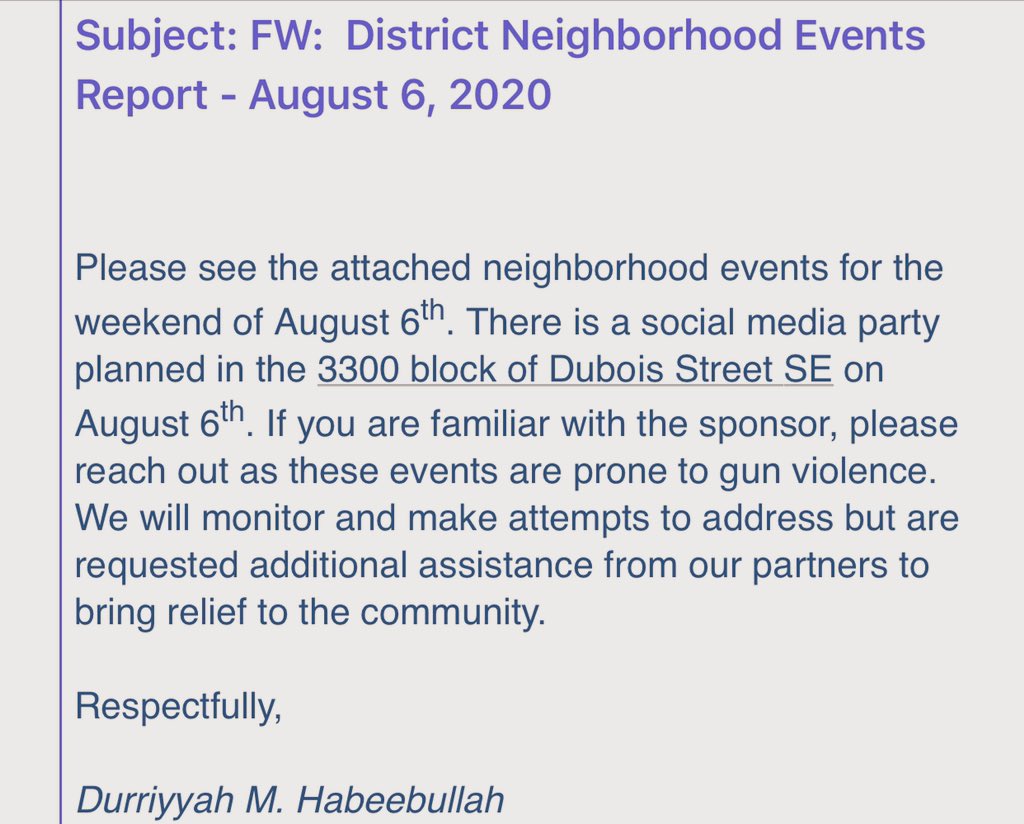 According to Stephanie Ramirez of WUSA, two days prior to the cookout, the 6D Commander Durriyyah M. Habeebullah circulated an email to multiple agencies, MPD members, and Ward Councilmember Vincent Gray which contained a copy of the flyer the organizers put out. It said 'If you are familiar with the sponsor, please reach out as these events are prone to gun violence. We will monitor and make attempts to address but are requested additional assistance from our partners to bring relief to the community"
According to a "DC Native | A proud resident of Anacostia in Southeast DC | USMC Vet | NoVA/UVA | Criminal Justice | Independent" twitter user anacostia904 a snippet of guidance from the Mayor clearly instructs that law enforcement "shall take no enforcement action, either through custodial or non-custodial (61-D) arrests against members of the public for violations of the Mayor's Order
As of August 27th, no charges have been filed against any of the organizers.
When asked by TMD Enterprises about the shooters during his August Meetup with Mendo on August 24th, Chairman of DC Governing Council Phil Mendelson admits to not having any update and not speaking with MPD since the incident & mentions nothing about the four shooters still at large.
Tiffany Brown, Christopher Brown's Mother confirmed to TMD Enterprises on Thursday evening she informed us that she hasn't heard anything. She deserves an update, she deserves to know her son's killer is being tracked down, she deserves a sense of safety, and frankly, with the inaction of MPD, she deserves justice.
In an email to TMD Enterprises Sean Hickman, Public Information Officer says, "MPD is currently investigating the circumstances around this incident. This is an ongoing investigation and there are no updates at this time. MPD has not released any photos or video footage. The off-duty officer is recovering and in stable condition." Not only does City Council not have an update or even inquired about the incident since it occurred MPD has nothing to offer as an update. Over two weeks later, hundreds attending and not one photo, or video, not one description of any of the four shooters. The streets of Southeast Washington DC have four gunmen one of which is a murderer roaming the streets able to shoot again and two weeks later there is no update and the Councilmember responsible to its constituents in Ward 7 has done nothing to pressure or even show condolences to the family of Christopher Brown. That is a shame. The largest mass shooting in DC history and everyone is mute two weeks later.

PhilTomQuestion His Staff: